In Term 3 we did a very exciting play called Jonah a fishy tale.
It was about the story of Jonah but a little bit different.
Our WORM 1 class did Sunbathing and the play went very well!
The only thing I wanted was about the lights.
The lights were so bright that I couldn't see the audience very well.
The audience of our play was our parents and my parents came too!
I was a bit nervous about the play but it was really fun.
Here is a photo of me and my group.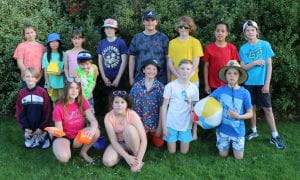 I'm the girl with the blue bucket hat.
I hope we do another play again!